COFFEE HOUSE PRESS INTERNS
Sep 05
Bougie, one of our cuter backers, just kickstarted the ultimate cat video book. 
Sep 03
Q. Why can't we stop watching cat videos? 
A. Because we've been brainwashed by our secret feline overlords (duh).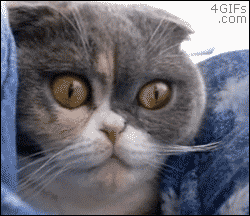 In all seriousness, though, we've decided to pursue the answers to some of life's important questions, like: Why are cat videos so popular? Why are we willing to waste** hours of our lives watching them? And why is Grumpy Cat so grumpy? 
Thankfully, some of our favorite writers (Carl Wilson, Elena Passarello, Alexis Madigral, Jillian Steinhauer, Stephen Burt, Matthea Harvey, Kevin Nguyen, and more) have agreed to answer these questions and more in a book called Cat is Art Spelled Wrong, which we're funding right now through our Catstarter.
A $20 pre-order gets you a copy of the book (with your name inside, disguised in a cat). There are also posters, a kitty totebag, and the opportunity to host the entire Internet Cat Video Festival in your backyard.
Plus, y'know, you'll be helping make sure the writers are paid well for their work. Kick in for your very own copy today and spread the word by reblogging and sharing the news with your friends!
View the Kickstarter here. 
**debatable 
Aug 06
[video]
Aug 04
"The real work is how not to hang your self-worth, your sense of success and merits, the fullness of your heart, and the stability of your soul on those numbers." — Maria Popova, founder of Brain Pickings, discusses the transient definition of success, the relationship between sleep and self-respect, and the production of meaningful creative work from "the reality of your own life."
Aug 01
Highbrow, Lowbrow, Middlebrow, or No Brow -
With the availability of the internet and expendable nature of technology blurring cultural class distinctions, do the words "highbrow," "lowbrow," or "middlebrow" have relevancy anymore?
Artist Mike Stilkey on using book covers as canvases: "I liked the idea of layering a visual narrative over the written stories in the books. I also liked imagining the past lives that these books experienced before they fell into my hands."
Jul 31
"Using your gifts toward something you are invested in and in an environment that suits your values will lead you to your calling." — Lily Zhang, from The Muse, explains career Counselor Richard Ledier's G+P+V formula for figuring out your career path.
(Source: Lifehacker)
Martin Levin Asks: "Would You Publish This Book?" -
In a high-stakes plot against the president, would you publish this book?
Career expert Liz Ryan of Human Workspace has a colorful infographic about how to stand out in your next job interview with storytelling.
Jul 30
Set aside that generic gin and tonic and try of these literary cocktail recipes. Are You There God? It's Me, Margarita. or The Pitcher of Dorian Grey Goose could liven up your next book club meeting.
Tinted yak brains, bone ash, and yellow arsenic not only made Tibetan Buddhist texts sacred, but showed that the manuscripts were "deeply linked to the places where they were treasured."
Britain's Bestselling Ghostwriter Comes Out of the Shadows -
"It's a perfect arrangement. You get the commission, have the adventure – anywhere from a palace to a brothel – and return to the security of your own home," notes Andrew Crofts, a ghostwriter who has written 80 books, sold 10 million copies, and appeared on numerous bestseller lists.
Jul 23
Zachary Shuster Harmsworth Literary Agency is seeking an office manager to handle operations, bookkeeping, and administration in support of their team of literary agents and clients.
Jul 21
Job: Editorial Assistant (Princeton, NJ) -
Princeton University Press seeks a highly motivated and personable college graduate who is detail oriented and has excellent communication and computer skills.
Job: Marketing & Sales Assistant (NYC) -
Scholastic is seeking a marketing and sales assistant.